Cranial Osteopathy
in Saltdean, Brighton & Hove, Horam
Suitable for anyone from newborn babies to the very elderly, being extremely gentle.
Cranial Osteopathy (or as it is sometimes called "Craniosacral Osteopathy") is a refined and subtle type of osteopathic treatment that uses very gentle manipulative pressure to encourage the release of stresses throughout the body, including the head. It is a system of osteopathic medicine which uses the patient's "Cranial Rhythm" (also known as the " Primary Respiratory or Involuntary Mechanism") for evaluation and treatment.
"I took my new born son to see Lin after a forceps delivery and within a few minutes my wife and I realised the whole family needed to see her.
Since then I have lost count of the number of times she has fixed us, both emotionally and physically.
Lin Bridgeford is without doubt one of the most qualified practitioners I have ever known, incredibly experienced in several systems after dedicating her entire life to helping others.
I wholeheartedly recommend anyone to visit Lin, I always leave her practice feeling lighter, happier and generally better." – Rob Chapman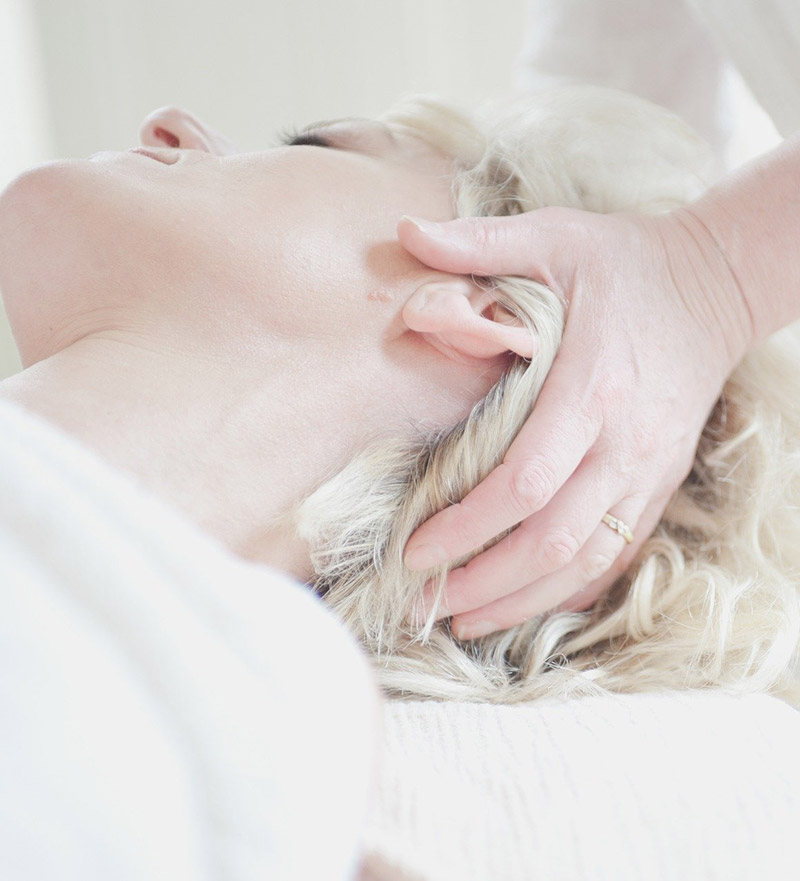 A very gentle therapy
It is a very gentle, non invasive treatment that is great for all age groups.
Cranial Osteopathy involves the gentle release of the skull bones as well as the spine, extremities and soft tissues of the whole body.
Its aim is to facilitate fluid flow and encourage freedom and balance in the connective tissue surrounding all body tissues, organs, nerves and blood vessels as well as enhance the integrity of bony sutures and joints in the body.
It is extremely effective in treating a wide range of conditions in people of all ages, from birth to old age.
"We have been taking our baby girl to be treated by Lin as she was not a great sleeper and didn't enjoy sleeping on her back. Lin has a great knack at detecting things in our girl that needed looking at and ironing out. Our girl would be very relaxed after a session with Lin and after a few visits, she is now a much better sleeper and she sleeps on her back!" – Amanda Faulkner
"Touch the body. Heal the mind. Calm the spirit.!"
What does Treatment Involve?
An osteopath takes a detailed medical history from the patient followed by a careful examination. He/she will make a diagnosis of what is causing the symptoms, and try to put together the 'story' of why they have developed.
The aim is to relieve the current symptoms and also improve the underlying health of the tissues as far as possible in order that they do not reoccur.
This type of treatment is suitable for anyone from newborn babies to the very elderly, being extremely gentle.
"Lin supported me during pregnancy. Not only did she make a huge difference to my physical comfort and strength but Lin supported me emotionally pre and post birth. Her knowledge combined with a gentle holistic approach gave me confidence going into labour. Giving birth and being a new mum would have been a much more challenging experience without Lin's treatments and encouragement. I can't recommend her highly enough." – Jo
"Lin has helped my body physically and my mind emotionally adapt to the immense change that pregnancy poses on oneself. I feel more confident that I will be physically ready and able to give birth naturally as a result of the course of treatment I have undergone with her." – NK